Jon-No H-Extra E-Wolfe premiered a new video today.  Let's get the official deets out of the way before we take a closer look, shall we?
Country singer-songwriter Jon Wolfe just released his brand new music video for his current single "It All Happened in a Honky Tonk." The video was filmed at the legendary Floore's Country Store in Helotes, Texas. 
The video features Jon and his band with a typical show set up as the fans arrive to the venue. This was a specialvideo in that Jon invited the fans in the surrounding area to come be apart of the video! As a thank you to the fans for being in the video, Jon played a free show for them after filming.
The title track "It All Happened in a Honky Tonk" is the fourth single off of Jon Wolfe's latest album. It is currently No. 11 on the Texas Regional Radio Report and No. 9 on the Texas Music Chart, already making it a strong follow up to his previous single "I Don't Dance" which reached top 5 on the Texas charts and had over 100,000 YouTube views. The singer, originally from a small town in Oklahoma and now Austin-based, is inspired by traditional country music citing George Strait, George Jones, Merle Haggard, Waylon Jennings, and Chris Ledoux as his biggest influences, which is evident throughout his entire album.  
And without further adieu…I give you, "It All Happened in a Honky Tonk":
My observations:
-Jon Wolfe has a bus???
-Is that all that happens in the back lounge of tour buses? I was expecting big pile of lubrication, illicit drugs, Whataburger bags and a stripper pole.
-Do musician dudes really have throw pillows on their buses?
-Was that a Jon Wolfe nip slip?
-I have been to Helotes a few thousand times, but I have to say I have never seen a chick that looked like this one there. I think she might be one arm raise away from having a nip slip of her own.
-I gigglesnorted when the Man Fan in the sleeveless shirt sniffed her.
-The women's bathroom scene is completely accurate. That place is a nightmare. Helotes is the only place where I voluntarily choose to use the Portapotty.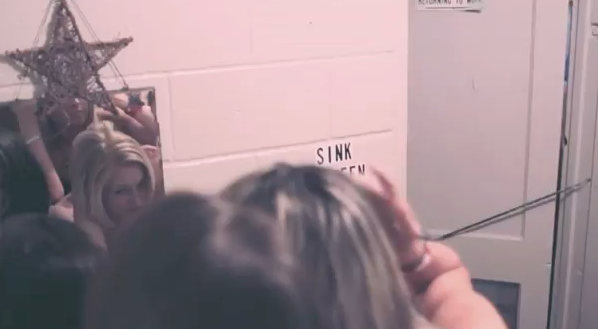 -Gotta appreciate such HARDCORE Diesel Sniffers, but this is a whole new level.
-If it is hot enough for all the girls to be wearing denim Huggies, how is Jon wearing that denim jacket ON STAGE and not sweating balls? I'm having a hot flash just watching.
~Rb