Charlie Rob-no-N-ison had a big week doing the publicity push for his Live At Billy Bob's Texas CD/DVD that is just about to kick off recording even as we type. Let's recap shall we?
KILT's Steve Two X's Rixx had the chance to talk to Charlie about this new album, why it's taken 10 years to record and how the song "El Cerrito Place" ending up on Kenny Chesney's Fishbowl album.
Click HERE to listen.
Cliff's Notes:
Charlie is the 44th artist to record a Live at BBTX
Charlie is turning 48 years young on Saturday…and playing Gruene Hall for his birthday. 
Steve says Charlie doesn't put out any effort on stage. (Ok, not really…he said his performances are "effortless".)
This album is going to be his 8th record. 
Kenny Chesney was an "El Cerrito Place" ManFan. 
Kenny recording the song opens the door for more mainstream fans to learn about Texas artists.
Charlie is currently digging Turnpike Troubadours, Band of Heathen and Ryan Bingham. 
Steve thinks "the scene" isn't slowing down and is actually vibrant right now. 
Charlie calls Kevin Fowler the "Redneck Jesus"….hey, wait a damn minute.  That's MY nickname for him!  Well, I call him the Redneck Messiah.  I guess that's different.  
Charlie also had a "Good Time" censoring himself on the DFW Fox's Good Day bright and early this morning:
I always wondered if Charlie got his style sense from Billy Jo Shaver. They always tend to be wearing matching outfits. I will say that I have never been a fan of long hair on a man, but something about Charlie's longer blonde locks that I am kinda digging.
Also, what apparently started out as a photo shoot ended up in a full on tattoo session.
Hmmm…what could it be? Word on the street is it a Texas with BB12. We shall see.
Happy Birthday Rob-no-N-ison!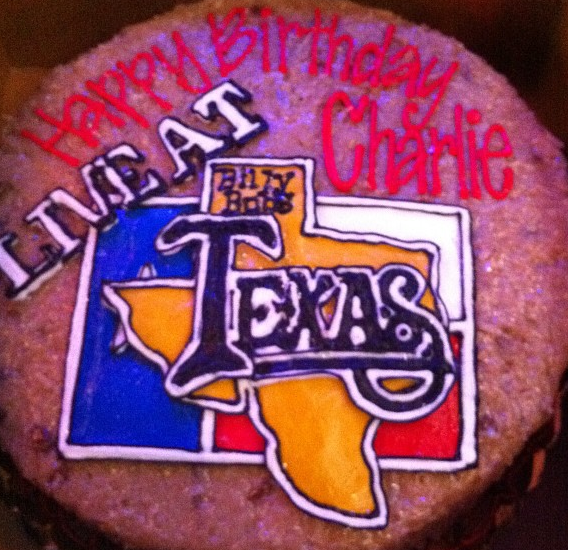 Damn, that cake looks good.
~Rb